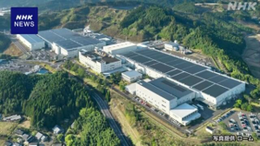 Hello! We are VeinWorks for Industrial Containers. 
Today, we would like to share with you the news that a former production site for LCD panels and other products is about to be transformed into a new semiconductor plant.
According to NHK NEWS WEB November 13, 2023
※ Image taken from NHK NEWS WEB 
Renesas Electronics, Rohm, and Mitsubishi Electric are planning to convert their factories in Yamanashi, Miyazaki, and Kumamoto prefectures, respectively, to new semiconductor production.
These plants were previously used to produce LCDs and solar panels, but were closed due to declining demand and streamlining. However, with demand for semiconductors on the rise, the company has decided that it can take advantage of the fact that it きhas already secured land and buildings to quickly establish a production system. 
The "repurposing" of Japanese semiconductor manufacturers' factories is a move that deserves attention as a strategy for Japan's survival in the era of great semiconductor competition. 
==========================================
Maybe the today's Japanese economy would have been brighter if Japanese companies in electronics, which led the world from the 1980s to the 1990s, had grown steadily.
We support Japanese manufacturing.  
VeinWorks, a Global Company of Industrial Containers