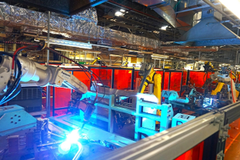 Hello! We are VeinWorks for Industrial Containers. 
Today we have some news about bicycle manufacturing using robots.
According to Newswitch October 28, 2023
※ Image taken from Newsitch
Panasonic Cycle Technology is said to produce bicycles with the use of robots at its main factory in Kashiwara City, Osaka Pref.
The company has incorporated robots in welding and painting processes to improve production efficiency and quality. Multiple robots work together in welding to construct frames, and eco-friendly powder coating is used in painting. These robots mimic skilled worker movements and perform complex tasks beyond human capabilities. 
It is important to build a sustainable production system to prepare for population decline and labor shortages. Panasonic Cycle-Tech's efforts are an example of this! 
However, robots do not replace all tasks. Small-lot products and products of various shapes and colors require human labor. Also, human eyes and hands are indispensable for inspecting all the parts after welding and for pre-painting before coating. It is important for robots and humans to cooperate in their respective fields of expertise to produce high-quality bicycles. 
==========================================
Everyone loves bicycles, and we hope Panasonic will release a futuristic bicycle like never before! 
We support Japanese manufacturing.
VeinWorks, a Global Company of Industrial Containers