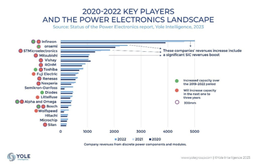 Hello! We are VeinWorks for Industrial Containers. 
Today we have news about the top 10 power semiconductor companies 
According to TECH+ October 13, 2023
※ Image taken from TECH+
Power semiconductors are semiconductor devices crucial for efficient power conversion. They find applications in various fields, but the Japanese market faces tough competition from Europe, China, and others.
According to a recent report by semiconductor market research firm Yole Intelligence, six Japanese companies made the top 20 in the 2022 Power Semiconductor Supplier Revenue Ranking. However, their total revenue falls short compared to leaders like Infineon Technologies. 
How can Japanese companies survive in the power semiconductor market? Collaboration, like the investment from Rohm in Toshiba, is a promising possibility. Together, they become a formidable domestic and global player. 
The power semiconductor market is expected to continue to expand due to increasing demand for EVs and infrastructure. Japanese companies need to seize this opportunity and enhance their technological capabilities and competitiveness! 
===========================================
We hope for Japan's power semiconductor industry to play an active role in the world. 
We support Japanese manufacturing. 
VeinWorks, a Global Company of Industrial Containers