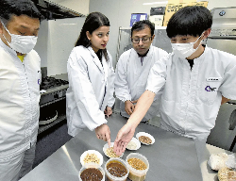 Hello! We are VeinWorks for Industrial Containers. 
We have a news on an initiative to transfer Japanese soy sauce-making methods to India.
According to Yomiuri Shimbun Online October 10, 2023
※ Image taken from Yomiuri Shimbun Online 
Chiba Soy Sauce partners with India for traditional soy sauce production.
The company, part of JICA's "Business Demonstration Project," is partnering with an Indian restaurant company to teach traditional soy sauce production, potentially making India the first to produce soy sauce from scratch, beginning with koji malt.
The article includes remarks from Kyosuke Iida, Chiba Soy Sauce's president, and Indian business leaders. Iida is optimistic about the Indian market due to the growing preference for natural food. Indian counterparts expressed a positive view of Japanese soy sauce production and are exploring its use in Indian cuisine to innovate new flavors. 
===========================================
We hope that soy sauce, a part of Japanese food culture, will create a new food culture in India! 
We support Japanese manufacturing. 
VeinWorks, a Global Company of Industrial Containers