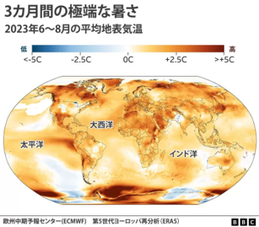 Hello! We are VeinWorks for Industrial Containers. 
Let us share a news on global climate change.
According to BBC NEWS JAPAN October 8, 2023
※ Image taken from BBC NEWS JAPAN 
In 2023, the world repeatedly surpasses the 1.5-degree Celsius target, highlighting the growing difficulty of curbing global average temperature rise and addressing the severe impacts of climate change.
It appears that 2023 will be the hottest year to date, with the global average temperature being 1.5 degrees Celsius or higher for about one-third of the year compared to pre-industrial times! 
This trend is thought to be influenced by the El Niño phenomenon, rising sea temperatures, and a reduction in Antarctic sea ice extent, but anthropogenic greenhouse gas emissions are also thought to be a major cause. 
Countries around the world are under pressure to take concrete action to reduce greenhouse gas emissions at the UN Climate Change Conference (COP28) in Dubai in November.
===========================================
This summer was very hot…and it continued to be hot in September. Gee, what will happen next summer?? Each of us, human being must address the issue of global warming.
We want to contribute to society through "sustainable packaging materials for a sustainable future . 
VeinWorks, a Global Company of Industrial Containers