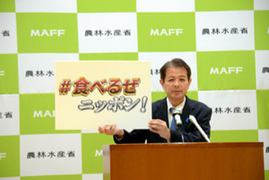 Hello! We are VeinWorks for Industrial Containers. 
This is unusual call by the Minister of Agriculture, Forestry and Fisheries (MAFF)of Japan to support Fukushima origin food products.
According to Asahi Shimbun DIGITAL September 30, 2023
※ Image taken from Asahi Shimbun DIGITAL 
A campaign to encourage scallop consumption has been making headlines recently, with MAFF Minister Miyashita calling on the public to eat five scallops per person to counter import restrictions by China and Hong Kong following the release of treated water from the Fukushima nuclear plant.
Japan's lucrative scallop exports, primarily to China and Hong Kong, suffered a severe setback due to restrictions imposed following the announcement of treated water release, adversely impacting scallop production areas like Hokkaido. 。
Therefore, Mr. Miyashita is promoting a campaign with the slogan "#EatJapan!" to increase domestic consumption of scallops. He is urging people to support by eating dishes with a few scallops twice a year.
===========================================
We also support this campaign. Let's #EatJapan!" together! Let's eat scallops!
We support Japanese manufacturing.  
VeinWorks, a Global Company of Industrial Containers