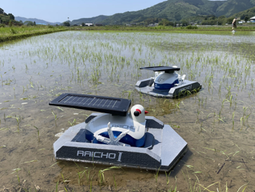 Hello! We are VeinWorks for Industrial Containers. 
Let us introduce news about labor-saving agriculture using robot technology.
According to TECH+ of September 29, 2023
※ Image taken from TECH+
Tmsuk Co., Ltd. practices WORKROID agriculture, a labor-saving method of rice  farming using robot technology that can be undertaken by people with no farming experience.
WORKROID agriculture is reducing labor hours and manpower by using the "Thunderbird 1" weed suppression & remote monitoring robot, drone seeding operations, and water management systems. 
In the first harvest, they were able to reduce labor hours to 29 hours compared to 529 hours in existing agriculture and harvested just under 400 kg per hectare! 
Tmsuk will continue to develop harvesting robots and other products to establish labor-saving agriculture that can handle the entire process from rice cultivation to distribution of rice flour, thereby halting the expansion of abandoned farmland and contributing to maintaining Japan's food self-sufficiency and food security. 
==========================================
We hope that the younger generation will utilize robot technology to lead agriculture in Japan, where the population is aging. 。
We support Japanese manufacturing.