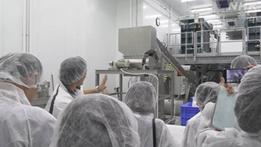 Hello! We are VeinWorks for Industrial Containers. 
We would like to share with you news of Japanese sake brewery opening in NY.
According to NHK NEWS WEB September 25, 
※ Image taken from NHK NEWS WEB 
Asahi Sake Brewery expands to the U.S., launching DassaiBlue and aiming to elevate sake's status, starting with Japanese rice but transitioning to American-grown rice in the future, says President Sakurai.
The United States is experiencing a surge in interest in Japanese cuisine and culture, resulting in a rising demand for sake, as highlighted by The New York Times. This trend includes local sake breweries like Asahi Sake Brewery and those in Arkansas, enhancing the sake production landscape.
Sake's Japanese tradition and cultural significance, its rising popularity in the US, and Asahi Sake Brewery's efforts hold importance for fostering Japan-US relations and enriching the sake industry.
==========================================
We want to expand Japan's proud offerings overseas and bring enjoyment to people all over the world.
We support Japanese manufacturer's craftsmanship. 
VeinWorks, a Global Company of Industrial Containers