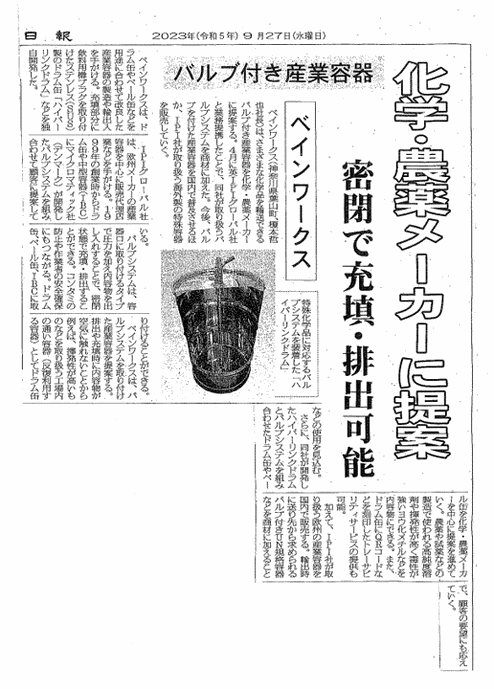 Hello! We are VeinWorks for Industrial Containers. 
VeinWorks participated at "INCHEM TOKYO 2023"  and VeinWorks become an article in the newspaer in The Chemical Daily. 
Although we attached a copy of the article (in Japanese) on VeinWorks/IPI at INCHEM, please find its English translation as follows:
=======================
– INCHEM Tokyo 2023 -
The Chemical Daily dated September 27, 2023
Proposal to chemical/agrochemical manufacturers 
Can be filled and discharged in a sealed manner
industrial container with valve
VeinWorks
VeinWorks (Hayama Town, Kanagawa Prefecture, President Tetsuya Enomoto) proposes valved containers that can transport a variety of chemicals to chemical/agrochemical manufacturers. In April, the company entered into a business partnership with a UK- based company, IPI Global, which added the company's Valve System to its lineup of products. In the future, it will not only disseminate the products with valve, but also special containers made in Europe that are handled by IPI.
VeinWorks imports and exports containers that have been modified from drum and pails to suit different uses. We have independently developed products such as the "Hyperlink Drum," a stainless steel (SUS) drum uniquely attached with keg-plug for drinks at filling/discharge port.
IPI Global is a sales agency that primarily deals with industrial containers from European manufacturers. Since its founding in 1999, the company has been offering customers a combination of valve systems developed by Micro Matic (Denmark) for drums and intermediate bulk containers (IBCs).
The valve system is a type that is attached to the container's opening and allows for the filling and discharge of contents under pressure, maintaining a sealed condition. This system contributes to preventing contamination and ensuring the safety of operators. It can be attached to drums, pails, and IBCs.
VeinWorks proposes containers equipped with the valve system. By preventing the contents from coming into contact with air during filling, these containers are intended for use in factories, particularly for handling substances with high volatility, as reusable containers. 
Furthermore, the company is promoting the proposal of drums and pails that combine the valve system with the uniquely developed Hyperlinked Drum to chemical and agrochemical manufacturers. These containers can be used for high-purity solvents used in the manufacturing of pesticides and reagents, as well as highly volatile and toxic substances like methyl iodide. Additionally, the company can provide traceability services by engraving QR codes or similar markings on the drums.
In addition to these offerings, the company will handle European industrial containers sold by IPI in the Japanese domestic market. They aim to meet customer demands by including products like UN-standard containers with valves required by recipients for export.
=====================================================================================
We want to be of service to you all in achieving occupational safety and a sustainable future.
VeinWorks, a Global Company of Industrial Containers