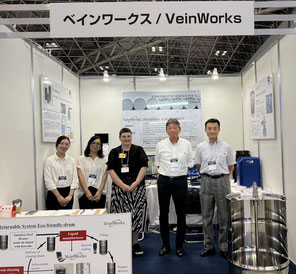 Hello! We are VeinWorks for Industrial Containers. 
VeinWorks participated at "INCHEM TOKYO 2023" held last week.
INCHEM TOKYO 2023, a specialized exhibition for the process industry, plant equipment, and engineering with a focus on the chemical industry, was held at Tokyo Big Sight from September 20 (Wed) to 22 (Fri), 2023.
It was a joint exhibition of VeinWorks and IPI as part of the partnership building since the first visit to IPI Global's headquarters in the UK in April this year, and Ms. Leslie, the sales manager from IPI Global, came to support us on the event.
It was Leslie's first time coming to the Japan, but she actively responded to the visitors' questions. After the work, she seemed to have enjoyed Japanese beer in Shimbashi.
We believe that many visitors to the exhibition were interested in our products, which were introduced under the two themes of occupational safety and sustainability.
===========================================
We want to be of service to you all in achieving occupational safety and a sustainable future..
VeinWorks, a Global Company of Industrial Containers