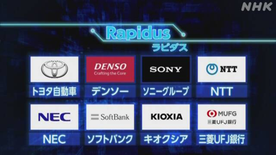 Hello! We are Vein Works for Industrial Containers. 
Today we have some news on the Japanese production of semiconductors.
According to NHK NEWS WEB September 1, 2023 
※ Image taken from NHK NEWS WEB 
"Rapidus," backed by Japanese firms, began construction on a new factory in Chitose City, Hokkaido, targeting mass production of semiconductors with sub-2-nanometer circuit widths. 
Given foreign competition in Taiwan, South Korea, and the US, domestic production will require significant time and expenses for tech, facilities, and talent. 
Japan views advanced semiconductor technology as vital for economic security due to its role in future technologies like AI and autonomous driving. To mitigate the risks of relying on foreign sources during conflicts, the government is expected to offer substantial support. 
=======================================
We hope that Rapidas will continue to operate smoothly and contribute to Japan's economic security. 
We support Japanese manufacturing. 
Vein Works, a Global Company of Industrial Containers