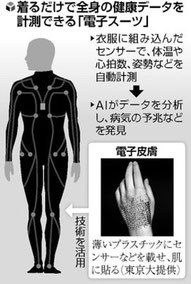 Hello! We are Vein Works for Industrial Containers. 
Today we will introduce you to the news of electronic suits 
According to the Yomiuri Shimbun Online August 22, 2023
※ Image taken from the Yomiuri Shimbun Online 
A global team led by the University of Tokyo is creating a "electronic suit" that has circuits in its fabric. It tracks body data, aided by AI for disease detection.
The technology uses electronic skin on cloth with sensors to record body data like temperature, heart rate, and posture. Solar batteries and wireless charging allow long-term continuous measurement.
The system, worn daily by athletes and others, detects health changes early. It aids medical tech development with physical data.
They are currently in the process of developing and experimenting with components and hope to complete the electronic suit in the late 2020s. 
==========================================
An electronic suit, wow, that's great. I hope it will make daily health care easier. I hope they will also develop an electronic suit for hot summer days. 
We support Japanese manufacturing. 
Vein Works, a Global Company of Industrial Containers