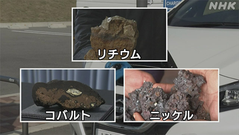 Hello! We are Vein Works for Industrial Containers. 
Today we have some news on the battle for resources. 
According to BBC NEWS JAPAN August 21, 2023
※ Image taken from BBC NEWS JAPAN 
Japan's Ministry of Economy, Trade and Industry (METI) has visited African countries to secure lithium, cobalt, nickel and other important minerals from them and reported the current situation as follows 
Demand for lithium, cobalt, and nickel is increasing due to EVs, and are produced in many African countries. Japan is putting a priority for resource diplomacy with African countries. 
Chinese are accelerating their efforts to secure concessions, backed by huge amounts of aid to African countries, and are making their presence. Japan, on the other hand, is lagging behind. 
African nations aim to diversify economies via ties with China, Japan, US, and others. Japan has potential for increased engagement.. 
============================================
So many different minerals are needed to make the lithium-ion batteries that are at the heart of electric vehicles! It appears that African minerals are supporting our future automobile "EVs." 
We want to support you achieve a sustainable future!
Vein Works, a Global Company of Industrial Containers