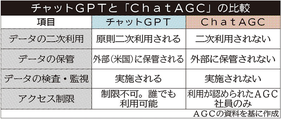 Hello! We are Vein Works for Industrial Containers. 
This is a news on ChatAGC…not ChatGPT
According to Newswitch August 7, 2023:
※ Image taken from Newswitch
AGC reports that it has built ChatAGC, a system that provides a variety of information and knowledge through natural dialogue, utilizing the technology of generative AI. 
ChatAGC was built in-house using Microsoft services to ensure security for data storage and secondary use. 
ChatAGC can also be used not only to improve operational efficiency, but also to create value, such as in the formulation of intellectual property strategies and the search for materials. It is also reported that an interactive AI specialized for specific fields is also under development, using language as an interface to facilitate access to simulation technology and other applications. 
In the future, the company plans to expand the use of the data by utilizing internal development data and data from overseas group companies as well. 
============================================
Perhaps the time will come when employees will use Chatbot, developed by each company for its own use, to carry out company business. I would like to be on the side of creating changes in the world. To do so, we need to create both hardware and software.
We support Japanese manufacturing.   
Vein Works, a Global Company of Industrial Containers