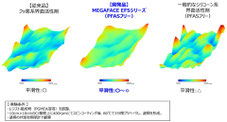 Hello! We are Vein Works for Industrial Containers. 
Today, we would like to share a new of PFAS-free surfactant.
According to DIC NEWS dated August 1, 2023:
※ Image taken from the DIC NEWS
DIC Corporation announces that it has developed the environmentally friendly PFAS-free surfactant MEGAFACEⓇ EFS Series. 。
This product has surface-active effects and uniform application properties equivalent or superior to those of fluorosurfactants, and appears to be applicable to a wide range of applications, including displays, semiconductors, automobiles, and coatings. 
The DIC Group is a leading global provider of packaging materials, display materials, and high-performance materials that are indispensable to people's lives. 。
============================================
Recently, environmental concerns by PFAS have been making headlines, and the development of new PFAS-free products has become an urgent issue. PFAS is also widely used in semiconductor manufacturing processes, so for this new PFAS-free product, the cleanliness of the container is important.
Vein Works offers clean containers used for high-performance solvents 。 
Vein Works, a Global Company of Industrial Containers