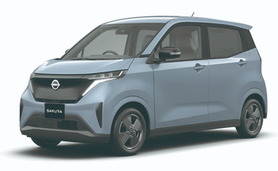 Hello! We are Vein Works for Industrial Containers.
Today we have some news about Nissan's electric car.
According to Fuel Oil Newspaper of Japan (Nenryo Yushi Shimbun) July 29, 2023 
※ Image taken from the above mentioned newspaper URL
As of the end of June 2023, Nissan's cumulative EV sales in Japan has reached 230,000 units!
Nissan launched its first mass-produced EV, the Leaf, in 2010, and has achieved a cumulative total of 1 million units worldwide, including Japan, and has been rapidly expanding sales with the tailwind of the expansion of EV purchase subsidies and other factors as the Japanese government has set a policy of achieving 100% electrified vehicles in new vehicle sales by 2035.
In 2022, the company successively launched "Sakura" compact-car and the "Aria" crossover SUV, thereby enhancing its vehicle lineup. It is also aiming to launch EVs equipped with all solid batteries developed in-house by 2028.
============================================
Time flies, and it has already been 13 years since the EV Leaf was launched. Japan did not show much interest in EVs in the beginning, but now they are being developed at breakneck speed.  
We support Japanese manufacturing. 
Vein Works, a Global Company of Industrial Containers