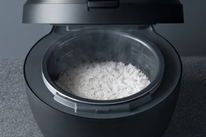 Hello! We are Vein Works for Industrial Containers. 
This is a new of an amazing rice cooker equipped with AI. 
According to CNET Japan on July 29, 2023: 
※ Image taken from the CNET URL
Panasonic is set to release its flagship model rice cooker "Variable Pressure IH Jar Rice Cooker Bistro" V series in early September.
This rice cooker is equipped with a technology called Bistro Master AI, which uses a unique sensor to detect the state of rice and water, and room temperature to finely control the heat and pressure to cook rice with a fluffy and graceful texture.
A pressurized hot air pump function has also been added, which optimally control the moisture content on the rice, thereby transferring heat to each grain of rice and drawing out its flavor.
This rice cooker is highly praised by many chefs including Chef Hiroyuki Kanda of the three-Michelin-starred Japanese restaurant "Kanda." 
============================================
Cooked rice is essential for the Japanese, and semiconductors and IT make it even more delicious. 
We support Japanese manufacturing. 
Vein Works, a Global Company of Industrial Containers