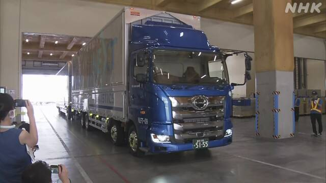 Hello! We are Vein Works for Industrial Containers. 
Here's some upcoming trucking news for you today! 
According to NHK NEWS WEB July 21, 2023:
The article describes how the latest technology using quantum computers is being used to address labor shortages and efficiency in the logistics industry, and how the latest technology is being used to transport trucks. 
Quantum computers automatically perform calculations to efficiently load various types and shapes of cargo, significantly reducing work time. Automatic forklifts have also been introduced to unload cargo unmanned, using cameras and sensors to determine the location of the cargo and other information. 
It is said that this initiative will not only save labor and improve efficiency in distribution warehouses, but also improve the working environment for drivers.
============================================
We never imagined that a quantum computer could help make trucking more efficient... We hope it becomes a reality soon! 。
Vein Works is supporting manufacturing business in Japan.  
Vein Works, a Global Company of Industrial Containers