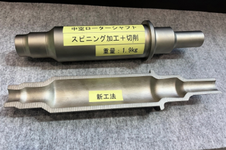 Hello!  We are Vein Works for Industrial Containers.
Today we have news on EV motor parts.
According to Newswitch July 22, 2023:
This article reports that Nihon Spindle Mfg. has developed a technology that enables efficient machining of rotor shafts for electric vehicle (EV) motor parts using a new flow forming process technology. 
If a dedicated flow forming machine is used, it can be introduced at a cost of several hundred thousand yen by replacing the processing tools. This technology can reduce the weight of the rotor shaft material by half or less compared to the conventional method of cutting forgings, and can also make the interior hollow, contributing to EV weight reduction, according to the company.  
============================================
Reducing the weight of automotive parts is one of our top priorities. We believe that weight reduction of each and every part is the basic but very diffidult point of manufacturing. 。
Vein Works is supporting manufacturing business in Japan.
Vein Works, a Global Company of Industrial Containers