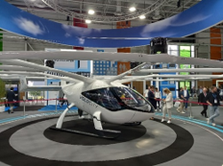 Hello!  We are Vein Works for Industrial Containers.
Today we would like to introduce you to the news of the Paris Air Show.
According to the Japan Trade Promotion Organization (JETRO) on July 4, 2023 
The 54th Paris Air Show, the world's largest aerospace exhibition, was held June 19-25 on the outskirts of Paris, France.
At the venue, leading French companies such as Airbus and Dassault Aviación, major aircraft manufacturers, and Safran (a major aerospace, defense and telecommunications company), as well as companies and organizations from aerospace-related industries from various countries exhibited and introduced their cutting-edge technologies.
Electric vertical takeoff and landing vehicles (eVTOLs), also known as "flying cars," are also attracting attention, and SkyDrive Corporation (Aichi Prefecture), the first company in Japan to successfully fly an eVTOL manned in 2019, announced at the same exhibition a change in specifications from a two-seater to a three-seater (one driver and two passengers). The company also appears to be aiming to provide air cab service at the Osaka-Kansai Expo in 2025! 
============================================
I would love to ride in an air cab at the upcoming Osaka-Kansai Expo, SkyDrive, good luck! 
Vein Works is always cheering Japanese manufacturing business.
Vein Works, a Global Company of Industrial Containers