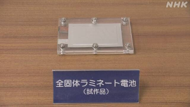 Hello!  We are Vein Works for Industrial Containers.
Today we have news about all-solid batteries.
According to NHK NEWSWEB of July 4, 2023
This article introduces the moves by automakers and battery component manufacturers to accelerate the development of the next-generation "all-solid battery" for electric vehicles (EVs). 
"All-solid battery" is a technology that can be expected to shorten charging time and greatly increase driving range, and Toyota, Nissan, Honda, etc. are aiming for practical use in the latter half of the 2020s. 
On the other hand, parts manufacturers such as Idemitsu Kosan and Mitsui Kinzoku are also strengthening their efforts for mass production, and Idemitsu Kosan aims to establish mass production technology by the end of 2027 by constructing and strengthening a demonstration plant for "solid electrolyte," which is the main component of "all-solid batteries," in Chiba Prefecture from this month.
As the global competition for EV development accelerates, attention will be paid to whether Japan companies, including material manufacturers, can lead the technology. 
============================================
Next-generation batteries for EVs will require materials with new functions and ultra-high quality. We hope that new development and mass production technologies will be smoothly established by material manufacturers. 。
High performance solvents are required for precision cleaning of elecrotonics products and synthesis of new materials. Vein Works handles special containers suitable for these solvents. 
Vein Works, a Global Company of Industrial Containers