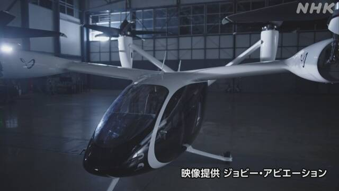 Hello!  We are Vein Works for Industrial Containers.
Today we have some news about flying cabs.
According to NHK NEWSWEB June 29, 2023
"Joby Aviation", an American venture funded by Toyota Motor Corporation, has been developing a "flying cab," a small, electric-powered aircraft that can travel quietly around town.
The company has announced that the prototype aircraft it has built for mass production has been approved by the U.S. aviation authorities and is now ready to begin test flights. 
The competition among companies to develop "flying cabs" has been intensifying, with Toyota investing approximately $400 million in this company in January 2020 to enter the field of air transportation services. 
Tetsuo Ogawa, CEO of Toyota Motor North America, will join the company's board of directors next month and said, "I look forward to working more closely with them than ever before. "
==========================================
The "flying cars" that we often hear about these days do not seem to be talking about the distant future. It is characterized by "electric power", "automatic", and "vertical takeoff and landing". We're wondering what kind of battery will be installed.
Vein Works offers special containers suitable for high-performance solvents used in the semiconductor industry.