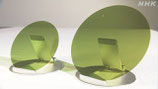 Hello! This is Vein Works. 
Today, we would like to introduce news from next-generation power 
semiconductor manufacturers 。
According to NHK NEWSWEB of July 10, 2023:
In the field of power semiconductors used in EVs and other vehicles, Japanese and foreign manufacturers are increasingly competing for leadership in next-generation products. 
Japanese companies such as ROHM, Mitsubishi Electric, and Renesas Electronics are investing to expand production, while overseas manufacturers such as Infineon Technologies AG of Germany are expanding their bases Japan. 
Competition is intensifying in the next-generation of power semiconductors called "SiC", which excel in durability and energy-saving performance, but there are high hopes that Japan will maintain its presence in power semiconductors while lagging behind in cutting-edge semiconductors.
==========================================
We hope Japanese power semiconductor manufacturers will do their best to compete with the world!!
Vein Works is supporting manufacturing business in Japan.   Vein Works